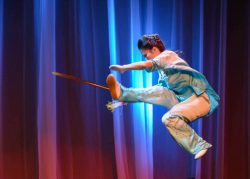 Rose Wang was born in Shandong, China. She started martial arts training at the age of seven, and won the gold medal at the national youth Chinese martial arts championship when she was 14. Later, she was selected to attend the national team but she chose to go to college instead and finished her bachelor's degree from Beijing Institute of Technology. She got champions in national and international competitions with her whip chains, staff and combat forms during her early twenties. In 2013, She got her master's degree in Business Management and Administration at Colorado State University.
Around the world and across the United States, Rose Wang has earned high acclaim as one of the top professionals in the field of martial arts. Due to her outstanding achievements, a number of leading experts in her field offer words of recognition that she has established herself as a top-level expert in her field, including Grandmaster Bin Wu and professional Chinese martial arts practitioner Nick Scrima.
Rose is passing along her top-level expertise in martial arts and Tai Chi to the next generation through Rose Wang Martial Arts and by coaching and nurturing her team in the U.S, who have been active at the national level and won significant national and regional awards. Her outstanding work in the U.S. has been widely recognized by her peers and reported by major national website, newspaper and magazines. Interested in learning from her experience yourself? Get in touch today to sign up for a class if you're in Hansville, Poulsbo, Quilcene, or Bainbridge Island, WA.